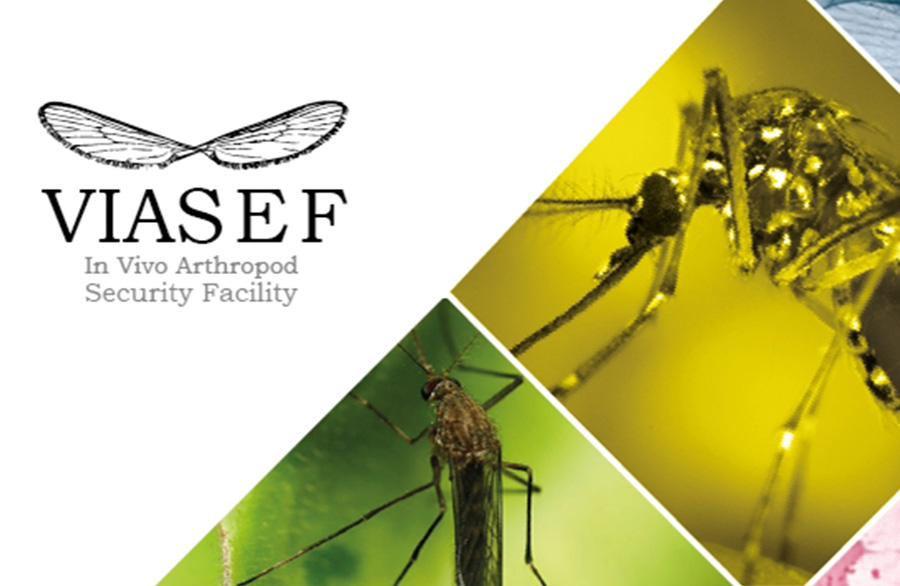 05 March 2021
In Vivo Arthropod Security Facility – VIASEF [NI-SERV-2020-21]
In vivo studies with autochthonous, invasive, exotic or transgenic arthropod vectors infected/non-infected with human pathogens.

OPPORTUNITY TO BE PROMOTED
Service Provision / Expertise
OVERVIEW
In Vivo Arthropod Security Facility "VIASEF" offers the possibility of conducting studies on a wide range of arthropods and the pathogens they transmit. Access to VIASEF is open to the academic, scientific and industry communities, in order to foster scientific excellence and support technological innovation both at national and international levels.
This research facility, equipped with ACL-2 and 3 insectaries and associated BSL-3 laboratories, provides access to a wide variety of services.
1 – Autochthonous, exotic (invasive and non-invasive), and transgenic arthropod species vectors of human and veterinary diseases are available for research and for commercial purposes, through the supply of dead or alive specimens or its parts (e.g. salivary glands).
2 – Standardized assays to test insecticides, biocides or repellents, and experiments with specific protocols to study key behavioral traits (e.g. host choice) at all arthropods stages can be accessed by both private and public sectors.
3 – Experimental infections in arthropods with vector-borne human pathogens and the establishment of specific pathogen's lifecycles, including field isolates and genetically modified pathogens, is offered by this infrastructure allowing studies on host-pathogen interactions, vector competence, or climate-dependent transmission effects. It also enables the production of infected specimens, or of their biological derivatives, in order to select phenotypes or to obtain biological material for the analysis of particular biochemical pathways.
4 – Insectaries and a BSL-3 laboratory are also available for rent. Within the scope of this service, insectaries and the BLS-3 laboratory may be rented, with or without technical support of the VIASEF staff, to the development of specific, short-term, research studies.
COMPETITIVE ADVANTAGES
VIASEF is an unique infrastructure in Portugal for projects demanding in vivo tests of vector-borne, BSL3-pathogens, including assays for the study vector competence determinants or the role of new pharmacological products in the development of the pathogen inside the arthropod host. VIASEF also allows the rearing and handling of invasive species or transgenic strains of arthropods that require specific containment conditions according to European security policies.
VIASEF supports product technological innovation by offering to SMEs, without capacity to maintain autonomous research departments, infrastructures, equipment, ""know-how"" and standardised experimental procedures for products evaluation and improvement.
When required, due to its modular and convertible structure, a BSL-3 laboratory and ACL-3 insectaries can also be used for the study of non-vector pathogens and arthropods, namely, in response to public health crises or environmental threats.
APPLICATIONS
The facility provides advanced training actions and working conditions for investigators from academia or industry, thus promoting researcher's mobility and science exchange programs. VIASEF has well-established partnerships with industry involving mosquito bioassays for testing the efficacy of products under development such as new bioinsecticides or novel impregnation methods of textiles/surfaces with repellents.
Currently is participating in the national efforts against SARS-CoV-2 pandemic.
FURTHER DETAILS
Direct access through VIASEF web-page: http://viasef.ihmt.unl.pt/
RESEARCH CENTRE
Global Health and Tropical Medicine